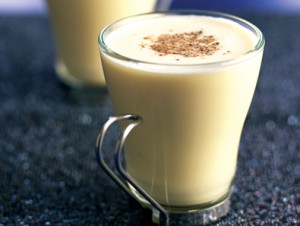 I created this last year for the holidays, and couldn't stop drinking it. I was so happy to know if was fortifying for my body! Lauric acid in the coconut milk, great essential fatty acids in the pastured eggs – no guilt here. Just deep satisfaction.
I made it last weekend for the Holiday Paleo Potluck, and put in too much stevia. (Ew. Don't do that.)

I've reduced the quantity of sweetener in this recipe, so add to taste. Something we quickly realized – the "optional cheer" helps cut the stevia bitter edge 😉
Use honey to be strictly GAPS/SCD compliant. Use the stevia to keep it lower carb. Most important – enjoy!
Rockin' Paleo Nog
Ingredients:
• 4 egg yolks from pastured eggs
• 1/2 tsp liquid stevia, or to taste – Stevita or Sweet Leaf brands recommended or 1/4 cup honey, warmed slightly
• 1 cup coconut yogurt, or 1 cup coconut milk and 2 Tbsp lemon juice
• 2 cups coconut milk
• 1 tsp alcohol free vanilla
• 1 teaspoon freshly grated nutmeg
• 4 egg whites from pastured eggs
• Optional: "cheer" of choice (rum, bourbon, ….)
Directions:
In the bowl of a stand mixer, beat the egg yolks and stevia until they lighten in color. Add the coconut milk, yogurt and nutmeg and stir to combine.
Place the egg whites in the bowl of a stand mixer and beat until stiff peaks form.
Whisk the egg whites into the mixture. Chill and serve. With optional cheer of choice.
Makes 1 quart plus.